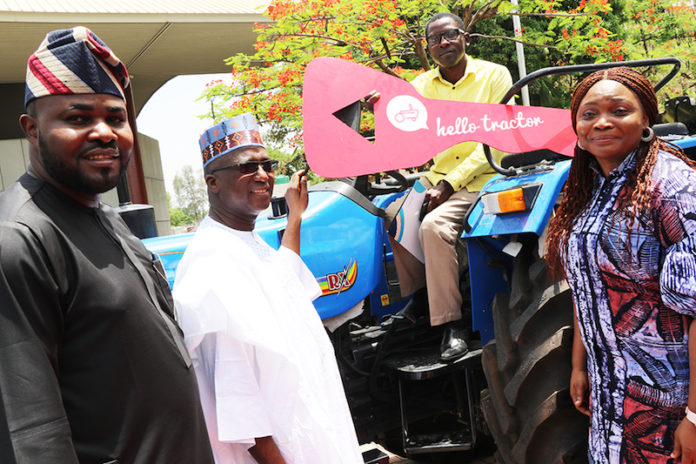 Agriculture
The introduction of tracking devices that allow farmers to book tractor services from local tractor owners via a mobile phone app, which is part of a programme recently unveiled by Hello Tractor in collaboration with Heifer International, will boost tractor ownership and guarantee a reality for entrepreneurs who find it impossible to get credit through normal channels, writes Festus Akanbi 
With barely a month to the end of the second quarter of the year, expectations are high that the federal government will be able to deliver on its promise to ensure the provision of comprehensive farm inputs to rural farmers as a way of raising interest in agricultural practice with a corresponding increase in food production for domestic purposes and exports. 
The Minister of Agriculture and Rural Development, Mr. Mohammad Abubakar, had at the 2021 budget performance and 2022 budget defence session at the National Assembly promised that comprehensive farm input, among others, would be provided to rural farmers through stakeholders such as the Central Bank of Nigeria (CBN) for the financial inclusiveness in the agricultural sector, to mitigate the adverse effects of COVlD-19 and support farmers affected by incidents of flood disaster. 
However, as the third quarter beckons, watchers of the nation's economy say funding is still a big deal to agric smallholders in Nigeria. 
Meanwhile, available statistics showed that in the third quarter of 2021, Nigeria's agricultural sector grew by 1.22 per cent in real terms compared to the same period of the previous year.
It is a fact that agriculture is a key activity for Nigeria's economy after oil. Analysts said that Nigeria's agricultural sector has high growth potential, but that this potential is not being realised due to several reasons.
First, productivity is low and stagnant. In addition to this, farming systems, which are mostly small in scale, are still predominantly subsistence-based and for the most part, depend on the vagaries of the weather.
These developments did not produce any cheering news. For instance, $22 billion is spent every year on food importation and as of March 2022, the inflation rate accelerated to 15.7%, food inflation rose to 17.20% and food prices jumped more than 20%.
While demand for food is growing, the supply side faces the challenges of changing environmental and climatic conditions, dwindling water supply, shortage of arable land and farming inputs, the rapid rate of urbanisation that is reducing available land for agriculture, and a host of other problems.
To mitigate these challenges, farmers must continue to innovate and embrace digital technology to improve productivity to meet domestic and external demand. Hence, the need for the transformation to digital or smart agriculture.
Technologies such as mobile telephony, robotics, remote sensor technology, the Internet of Things (IoT), big data, artificial intelligence, and many others, provide the agricultural industry with the tools and information to make more informed decisions and boost productivity.
 New Opportunities
 However, as the Nigerian economy is opening up to private investments, new opportunities are emerging and are already dwarfing some of the challenges facing the agricultural sector in the country. The truth is that Nigeria, like some other members of the African continent, is beginning to enjoy direct interventions which promise to boost its agricultural financing.
Tractor Financing
One of such direct interventions came from Heifer International, which recently announced that it is investing $1 million in the tractor booking platform, Hello Tractor, to provide loans for tractor purchases—loans that can be repaid from revenues earned by leasing them to local farmers.
The programme, "Pay-As-You-Go (PAYG) Tractor Financing for Increased Agricultural Productivity in Nigeria," already has enabled tractor purchases in the states of Nasarawa, Abuja, and Enugu. These purchases, according to the company, could make tractors accessible to thousands of smallholder farmers via the increasingly popular Hello Tractor leasing platform.
 Sometimes referred to as Uber for tractors, Hello Tractor offers software and tracking devices that allow farmers to book tractor services from local tractor owners via a mobile phone app.
"We developed the PAYG programme to make tractor ownership—and the reliable income these machines can bring—a reality for entrepreneurs who find it impossible to get credit through normal channels," said Jehiel Oliver, Founder, and CEO of Hello Tractor.
"We look at the revenue tractor owners can generate, not how much collateral they can pledge."
Oliver said that partnering Heifer "enables us to extend innovative financing to people who were previously considered 'unbankable,' while increasing access to technology that has the potential to improve the incomes of millions of smallholder farmers across Africa."
Unlocking Capital for Youths
However, Senior Vice President of Africa Programmes at Heifer International, Adesuwa Ifedi, who unveiled the Hello Tractor Pay-as-you-go Tractor programme last month in Abuja explained that "The pay-as-you-go model provides financing for entrepreneurs who want to create jobs by capitalising on the demand for tractor services on African farms, but who lack traditional forms of collateral", adding that the gesture is a way to unlock capital for youth who have strong business skills that can help transform African agriculture but are often overlooked by private equity investors.
Partnership with Local Economies
Since 1944, Heifer International has worked with more than 39 million people around the world to end hunger and poverty sustainably. Working with rural communities across Africa for 47 years, Heifer International supports farmers and local food producers to strengthen local economies and build secure livelihoods that provide a living income.
 Ifedi explained that the company's strategic goal over the next 8-10 years is to assist more than one million farmers (largely young men and women) to reach a sustainable living income by 2030, through strategic private and public sector partnerships, unlocking demand and market opportunities, leveraging finance across priority value chains, and leveraging innovation and emerging agricultural technologies to reach transformational scale.
"Heifer believes leveraging technology and modern practices will create a pathway for Nigeria and other African countries to increase productivity and competitiveness of the agricultural sector to curb food insecurity and poverty. More progress can also be achieved with the involvement of the largest group in the population – the youth – in all phases of agriculture," she stated.
She added that with Nigeria's population currently estimated at more than 200 million people and growing at 3.2% a year, feeding 200 million people and a projected 400 million by 2050 will be a daunting challenge. 
With more than 75 years of investing and technically contributing to agricultural transformation programmes globally, Heifer International is repositioning its work in Africa to include investment in infrastructure, young social entrepreneurs, and technology to support the continent's agricultural sector leapfrog.
Heifer International for more than four decades has been a trusted partner for smallholder farmers across Africa combining the power of African youth with the many possibilities of emerging technologies.
 According to Ifedi, "Globally, there are roughly 200 tractors per 100 square kilometers of agricultural lands, but in sub-Saharan Africa, there are only about 27. This is illustrative of a mechanization deficit.
The deficit has a significant impact on farm productivity and local economies in a region where most people depend on smallholder farming for income.
"Hello, Tractor is one of many new agritech start-ups emerging across the continent that are finding business opportunities in addressing this and other farming challenges.
However, while private equity groups and large impact investors have provided more than $5 billion for tech startups in Africa, very little of that financing has gone to young agritech entrepreneurs," she noted.
 In 2021, Heifer International created the AYuTe Africa Challenge, which awards cash grants annually to the most promising young agri-tech innovators across Africa. It also supports Heifer's goal of helping more than six million African farmers to earn a sustainable living income by 2030. The Pay As You Go Tractor model was a fallout of this annual African challenge competition.
 The inaugural AYuTe Africa Challenge awarded a total of $1.5 million to two companies, of which Hello Tractor is one. The award allowed Hello Tractor to finance 17 tractors for 17 entrepreneurs in three countries.
Ifedi expressed the belief that Heifer's today's investment in the PAYG product will give more entrepreneurs and smallholder farmers access to tractor services at an affordable rate and in turn boost farm productivity, employment, food security, and farmer livelihoods in Nigeria.
 Since 1944, Heifer International has worked with more than 39 million people around the world to end hunger and poverty sustainably. Working with rural communities across Africa for 47 years, Heifer International supports farmers and local food producers to strengthen local economies and build secure livelihoods that provide a living income.